Is It Time For Interest Rates To Rise? Links to Reuters, Spectator, New York Times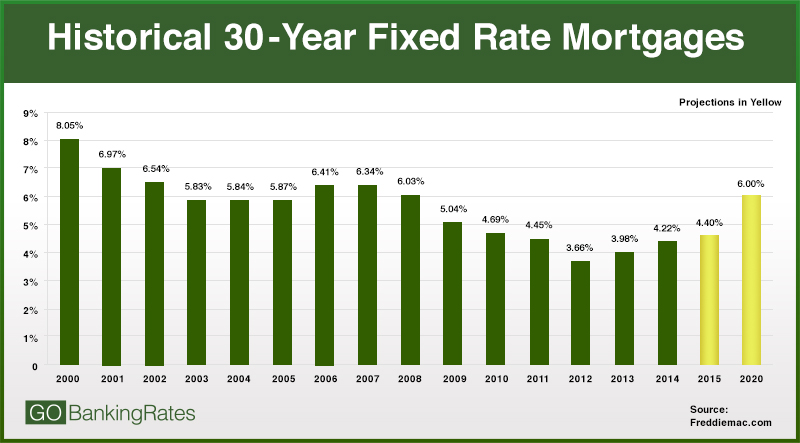 Back in August, 2015, Morgan Quinn (Morgan Quinn  work has appeared on WSJ.com, Huffington Post and Slate. She is also the former Managing Editor of Mint.com.) wrote a great article about the basics of interest rates loans for GoBankingRates.com.
In this article she details the the 101 of Interest Rates and what controls them:
The Federal Reserve System
The Federal Reserve System (also known as the Federal Reserve or just the Fed) is the central banking system of the United States. The current chair of the Fed is Janet Yellen, who was appointed by President Barack Obama in February 2014. The Fed's three key objectives for monetary policy in the United States are:
Maximum employment
Stable prices
Moderate long-term interest rates
One way it attempts to achieve these objectives is by controlling the federal funds rate — the rate that banks charge each other for overnight loans, which impacts interest rates.
Inflation
On its most basic level, inflation is the rate at which the prices of goods and services rise. As inflation rises, purchase power falls — every dollar buys a smaller percentage of that good or service. The Fed tries to sustain a rate of inflation of 2 to 3 percent to keep the growth of prices at a minimum.
Interest Rate Cuts
When the federal funds target rate is reduced, interest rates get cut. The Fed rate is important because many other rates follow this rate closely.
Well… Are They Are Aren't They?
When researching all the experts articles for 2015, the general consensus was that rates would have risen at least twice this year.
"One of these days, the Federal Reserve tells us, it will decide to raise interest rates. The announcement will be akin to a doctor's decision that a patient is well enough to be gradually taken off medication. The thinking inside the Fed is that the economy is finally healthy enough that borrowing costs should return to more "normal" levels to help keep future inflation from accelerating too much."
"The Fed says rate hikes will be gradual, but they'll affect everything in the economy, from your mortgage to your job to your 401(k). Federal Reserve chair Janet Yellen has signaled, by omitting the word "patient" from her latest statement, that the central bank could begin raising interest rates as early as this summer. On Monday, Stanley Fischer also suggested in a speech that rate hikes are likely before the end of the year. The rise is likely to be slow and bumpy. Still, the Federal Reserve's benchmark short-term interest rate has been near zero since the financial crisis in 2008, and it's been a long time since investors, borrowers and consumers have dealt with a rising-rate environment. The Fed's decision to move rates in the other direction, when it comes, is something you're sure to feel in your wallet."
Federal Reserve Chairman Ben Bernanke recently told the House Financial Services Committee that given current economic conditions, the federal funds rate is expected to remain at "exceptionally low levels for an extended period." However, rates — which have hovered near record lows for an extended time — have nowhere to go but up, and likely will begin rising once the U.S. economy regains its footing. "The moment there is a sniff of economic expansion or a weakness in revenue and receipts of the U.S. government, we will see interest rates rise," predicts Curt Lyman, managing director of HighTower Advisors in Palm Beach Gardens, Fla. While rising rates are bad for people with credit card debt and other loans, they can be a lifesaver for people on fixed incomes who depend on steady returns from CDs, savings accounts and other vehicles tied to interest rates.
These folks say the rates NEED to rise…
"We're all, everyone including Uncle Tom Cobbleigh, expecting the Federal Reserve to announce a rise in interest rates at their meeting next week. The very fact that we are all expecting this to happen means that if they announce no rise then there will be market turmoil: if they announce a rise then things will be really rather calm." SeekingAlpha.com
"A storm is coming to the credit markets. Matthew Mish and Stephen Caprio, strategists at UBS, put out a bearish note on Thursday, looking at whether lower-quality, high yield and leveraged loan borrowers will be able to refinance their debt.  Companies have binged on debt following the financial crisis, taking advantage of an extended period of low-interest rates.  Higher-risk companies have been big beneficiaries. Yield-thirsty investors have paid up for riskier bonds, allowing these companies to raise capital at historically low costs. The problem will arise the companies look to refinance that debt after interest rates have begun to rise."
"The big question in modern US and British monetary policy is how to get back to normality. How does a central bank begin to deflate a balance sheet that has ballooned to the equivalent of a quarter of a year's national income, and start raising interest rates for the first time in years? The challenge is to do it without scaring financial markets — and without taking too much cash out of the system in one go. The threat to the prices of financial assets from the eventual rise in rates may come more from the psychological shock that the moment has finally arrived than from the actual impact of the change in interest costs."
"The employment report should remove the final doubts about a rate hike at the December meeting. The clear message from the labor market to the Fed is: 'Just do it!'" said Harm Bandholz, chief U.S. economist at UniCredit Research in New York.
Chris Weymouth, Director, Certified Luxury Home Marketing Specialist, CLHMS and Debbie Luber Weymouth, Manager, have marketed and sold over 4000 homes in Maryland since 1983. Expertly trained and award winning agents, they are leaders for The Weymouth Group at Keller Williams that has been recognized by their peers as one of the best in the business. Chris Weymouth is ranked in the top 1% at Keller Williams, top 1% in Howard County, Maryland and Nationwide among Realtors. Serving Central Maryland and all our friends and family for almost 60 years. Need a Luxury Home Marketing and Buyer Specialist in Howard County (Ellicott City, Woodstock, Clarksville, Marriottsville, Fulton, Laurel, West Friendship, Glenelg, Columbia, Elkridge, Dayton, Mt. Airy, Woodbine and more), Carroll County (Elkridge & Sykesville), Baltimore County (Catonsville, Woodstock, Owings Mills, Pikesville and Reisterstown), Anne Arundel County (Pasadena, Severna Park, Hanover, Severn, Glen Burnie, Annapolis and Odenton), Prince Georges County (Bowie & Laurel), Montgomery County (Silver Spring, Olney, Bethesda and Sandy Spring) or Harford County? We Know This Market! Then call Chris at 443-280-1922 or email Chris@TheWeymouthGroup.com